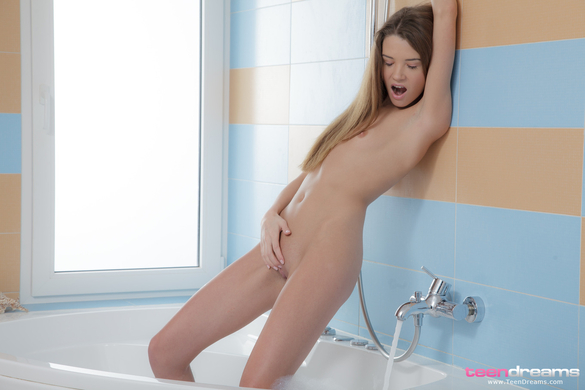 The amazing hot teen babe Tini is about to take a shower.  Fans of Tini will already know she is a sensuous and sexual 18 year old from the USA who loves nothing more to pose and tease for us lucky guys.
Arriving in the bathroom, the hot teen babe switches on the shower and turns to face the camera.  She is wearing a sex little top and a pair of cute panties.  Both are a little bit see-through but that does not bother this confident babe, as she knows exactly where this scene is heading.
Her hands begin to wander, caressing her cute breasts through her top before her hand heads south to her panties.  Here she concentrates on rubbing herself through the panties, her pussy becoming more visible as they get wet from her teen pussy juices.  She lifts up her top, exposing her sexy teen tits, all pert and cute and while doing this her hand slips inside her panties and briefly touches her pussy.
She takes off the top and gives a giggle before putting her hands back down inside her panties, this time she seems to mean business. She starts to fondle her small, pert breasts, paying particular attention to her sexy pink nipples and this seems to delight her.   Her look has now gone from playful to naughty as her hands linger inside her panties and begin to explore the folds of her young pussy.
She takes the panties off, revealing her juicy bald slit and jumps into the shower.  She arches her back and parts her legs to ensure her pussy can get her full attention.  She rubs herself passionately, her pussy lips now parted and her clit head exposed.  She then pulls down the shower and uses the jets of warm water to massage her lips and clit as she heads towards ecstasy.
Tini features heavily in the members area, along with her hot teen babe girlfriends, you really should give it a try.
Tini
Length: 17:36
Video Added: 2013-09-06