112 photos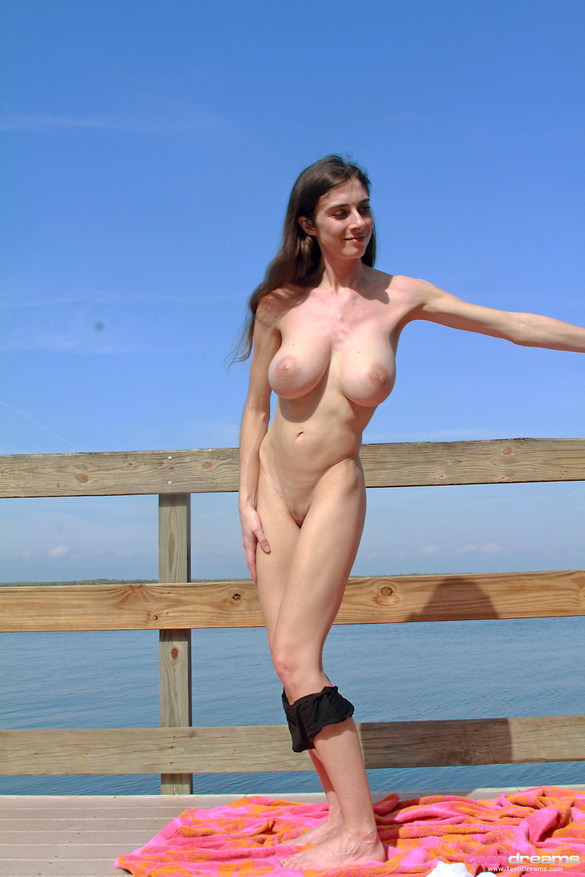 In what has proven to be a very popular picture set, stunning big boob teen Michelle poses for some shots on a wooden platform overlooking the stunning blue ocean.
This hot girl is super confident and in the first picture, shown above, she already has her panties around her ankles.  This gives us a full view of her sensational and sexy body that I feel needs a full and detailed description.
You cannot fail to start with Michelle magnificent tits.  Remember, this girl is only eighteen, so these should still be developing!  They are the best tits I have ever seen on a teen, period.  Huge and full, firm with just a little wobble, they are fabulous and look ripe to be fondled.  They are topped off with a pair of womanly nipples and you cannot say enough good things about them.
But this is not just about a big boob teen, she has a lot more to offer.  The remarkable thing about Michelle is that she is so thin and toned, the size of her tits does not reflect in the size of her body.  She has white skin that is taught and sexy and shows off her pussy to perfection.  This is shaven and tight, again enhanced by Michelle's muscle structure that surrounds it, and in some of the poses she bends forwards and looking between her legs from the back we can see it in all its teen glory.
The poses that Michele casts are without doubt designed to show off her teen tits in all their glory, her body is delicious and she knows it, and she certainly knows how to show it off.  Both her and the talented photographer deserve maximum credit.
Michelle is a real select breed of big boob teen babes but believe it or not we have more.  You will find Michelle and some of her big boob friends in the members area, we advise you take a look.