149 photos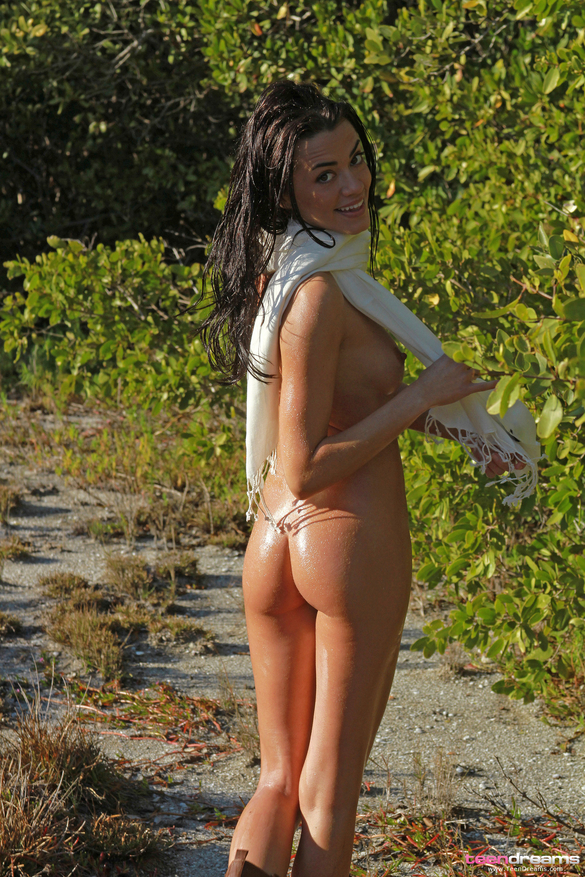 Naked outdoor teen Layla is making the most of some wonderful weather.  The sun beats down and the air is clean in the countryside, so she decides to talk a walk along a seldom used trail.  And it is a good job it is seldom used, because the hot 18 year old is taking this stroll her way.  She wears a pair of ankle boots and a long scarf, and nothing else!
That is right, she is showing the world all she has to offer, and when you see her, you will realize that this hot teen babe has lots and lots to offer.  Her legs are long and toned, carrying an almost flawless tan.  They arrive at her ass, which has to be seen to be believed.  It is round and firm, not muscly, just young and sexy.  Her pussy is clean shaven and as tight as you would expect for a girl of her tender years and her tits are sensational.  Firm and pert, yet they give a little wobble as she steps down on the stony trail.
But her nakedness only tells part of the story, because as well as coming out for a walk, the hot babe is also taking in the opportunity to strike a few poses for the camera.  These start very playful, with sexy glances over her shoulder and holding her scarf aloft.  These playful and fun poses really suit Layla and her great personality, but there is more to her, and she begins to show her sultry side.
Her hands slip down to her ass and the poses become a little more suggestive, then the suggestion turns to real horny action as she starts to play with her sexy tits, ensuring she pays special attention to her pert, erect nipples, squeezing them between her fingers.
Layla is a real beauty and loves to pose, see more of what she gets up to inside the members area.