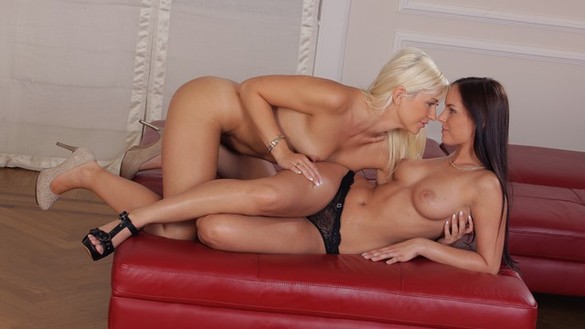 To watch a pair of lesbian teens in action is a rare treat and this hot couple are no exception as they enjoy each other's tight young bodies.  The hot couple get together on a huge red leather couch, giving them plenty of room to enjoy each other's company.
With them dressed only in underwear, they waste no time in getting off each other's bras, revealing two pairs of brilliant pert young tits, with both of them experiencing hard nipples.  They then start to play with each other's nipples, making them both aroused and horny.  Within moments their hands slowly creep down each other's bodies as they kiss and caress to the point where they are now ready to explode.  They slide their hands into each other's panties and start to rub each other sensuously, their fingers getting wetter and wetter from each other's juices.
They then strip off each other's panties to reveal two of the cutest tightest, smoothest little pussies I think I have ever seen.  They then continue playing with each other, this time our view not obstructed by their panties in the way.  The lesbian teens are now totally turned on and their fingers are darting deep into each other's holes, their fingers wet with each other's juices, flicking against each other's clits as the passions intensify.
Their fingers are now no longer hitting the mark, so as one babe lies back on the leather couch, the other tenderly at first begins to lick her friends pussy.  Her tongue presses gently against her friends clit, then plunges into her hole, bringing with it a taste of sexual desire.  They swap places so both girls get their fill of tongue and they are close to making each other climax.
We have muck more brilliant lesbian teen content in the members area, with some of the hottest young babes around.
Kari & Tracy
Length: 20:01
Video Added: 2013-09-03