117 photos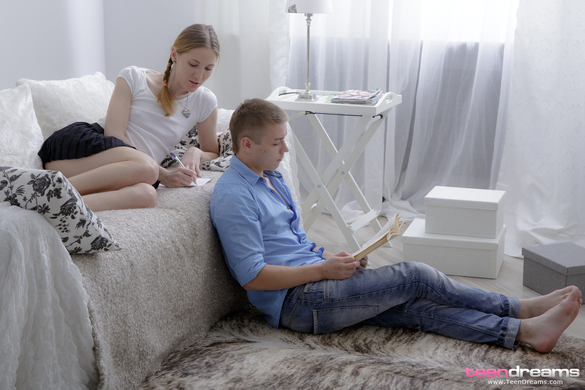 In this incredibly hot photo set, a study session turns into a scorching sex session as horny teen Eva is more concerned with having her needs satisfied than her grades. The set starts with Eva in white socks, pleated black skirt, and a deliciously translucent white shirt that gives us a great view of her sexy teen tits, nipples hard with desire. She has a new study partner and although she does make a token effort to complete the assignment, it isn't long before their thoughts turn to pleasure and they start exploring each other.
Starting first with a few kisses, Eva's partner quickly turns his attention elsewhere, pushing up her white shirt so he can make her moan with pleasure as he sucks on her sweet pert breasts. Completely aroused, she opens up his pants so she can take his cock in her mouth and begins sucking with obvious enjoyment. Before long he is returning the favor, laying her on her back, pushing up her skirt, and slowly sliding off her pristine white panties so he can lick and suck her smooth pink pussy.
Soon that isn't enough for these horny teens and he slides his stiff cock into her waiting wet pussy from behind, giving us a great view of her delectable ass. One position isn't enough for Eva and we get a chance to see her lithe teen body and tight moist pussy crammed with cock from a variety of angles. After Eva is screaming with climax her partner takes his pleasure, stroking himself to completion and allowing his cum to drip down her hot slit.