67 photos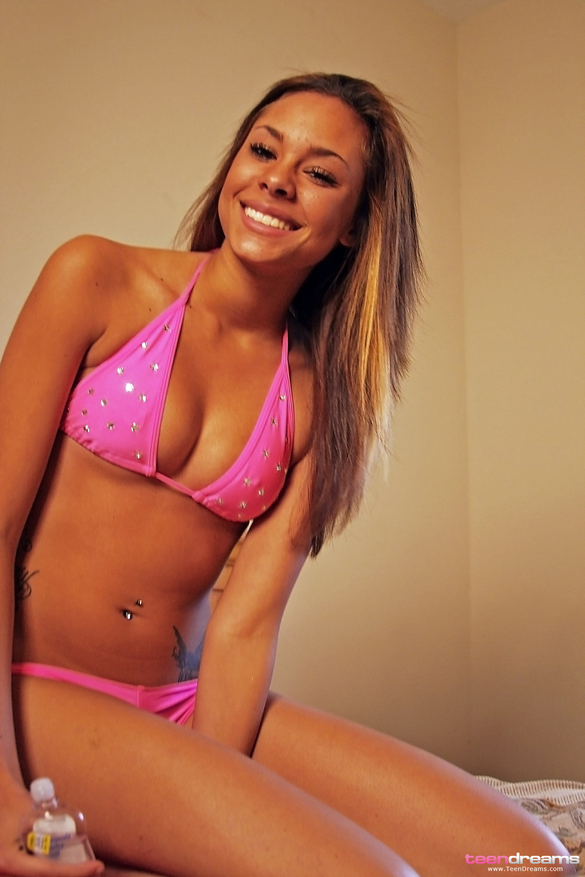 Hot and playful teen Danica is dressed in a great pink bikini.  Her tanned and flawless flesh is on show, as are her impressive tattoos, one on her side, and another just above her bikini line.  She looks in the mood to play today, her eyes having the glint of someone who is confident and contented.
She has with her a child's bubble wand, filled with silky, soapy bubble solution and it seems this is going to be how the sexy Danica will get her kicks today.  She opens the wand and pulls out the end, ready for her to blow.  As she moves the wand up towards her mouth disaster happens and the solution leaks out, slipping down her body.  This makes her already perfect skin glisten and shine with a lovely glow and also seems to start to turn her on.
The fact that she is turned on is not going to stop Danica from playing with her bubbles and she starts to blow the bubbles gently into the air.  She giggles as they descend and land with a pop on her hot flesh, this really is a great fun game for this playful teen.
As the bubble land on her she gets increasingly covered in the bubble solution, its soft and silky texture feeling great on her skin.  She rubs a little in and sighs.  Her hand continues to rub the solution in as the other hand holds the wand and sends more and more bubbles up into the air.  Her hand reaches her bikini top and she pulls it aside, just to gain better access to rub in the soft and silky liquid.  Her tits are stunning, she looks so hot with her tanned boobs, all firm and pert, yet covered in the silky bubble solution making them positively glow.
You really get a sense of Danica's personality in this set, see more of her in the members area, you will not be disappointed!