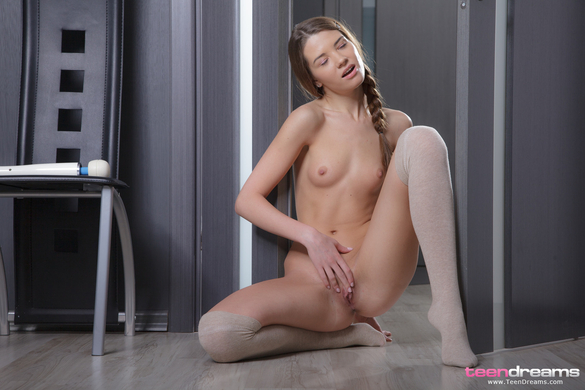 The beautiful Tini walks into the room with only one thing on her mind, she wants to pleasures her sweet teen pussy and in doing so she is going to put on one of the best solo shows you have ever seen.
As she stands in the doorway in a sexy white bodysuit, she starts to slowly and seductively dance, using the door to support her as she writhes her beautiful slim body around. With her legs apart, she sways her hips from side to side as her hands reach down and caress the lovely soft curves of her teen body. She turns side on, the cloth of her bodysuit tight between her pert ass cheeks as she seductively sticks out her bum and gyrates her hips.
She walks further into the room, the stark whiteness of her outfit contrasting starkly against the dark steely gray walls. Her hand reaches up to the straps and she slowly and gently teases them down over her sleek shoulders, one at a time. She walks fully into the room and peels her body suit down to the floor as she stands there in all her glory, her sumptuous body now naked all except for her knee high socks.
She slides down the door frame and onto the floor with her legs spread wide. Her fingers reach down to her sweet teen pussy and she starts to rub. Taking hold of her Hitachi wand she places it between her legs, it's immense power buzzing away wildly at her clitoris as she closes her eyes, thrusts her head back and moans with sheer delight.
She does not care who is watching her now, she is in her own little world, the throbbing sensation inside her driving her wild until her sweet teen pussy can literally take no more.
Tini
Length: 23:07
Video Added: 2